Chiropractor
Dr. Darren Hart D.C.
Dr. Darren R. Hart was born and raised in Atascadero and received his education at Atascadero High School, Cal Poly and Palmer College of Chiropractic.
He was inspired to become a chiropractor after a lifesaving chiropractic adjustment as a young child. He has been practicing in Atascadero for over 25 years. Through his gentle healing touch. Dr. Hart enjoys giving back to others what chiropractic gave to him.
He founded Hart Family Chiropractic in 1994 with the goal of promoting total mind-body health for central coast residents. Today, Hart Family Chiropractic offers natural, non-invasive chiropractic care for all ages in the Atascadero area.
Office Manager
Makenzie Hart
Makenzie is a lifelong inhabitant of the Central Coast, and a lifelong recipient of Chiropractic care from her uncle, Dr. Hart. Over the years, she has come to appreciate the true value of Chiropractic care and its many benefits, and loves to share this knowledge with others!
She studied Anthropology at UCLA and graduated in 2020 with an honors BA. She has found that her anthropological knowledge is vital in the communication and research demands of her current position.
Communicating the benefits of Chiropractic to patients and seeing the natural health lightbulb go off is one of her favorite job perks!
She is enthralled to be working with her current team of passionate individuals, all of whom value chiropractic care and strive to make the world a better place, one spine at a time!
Chiropractic Assistant
Justin Hart
Justin was born and raised in San Luis Obispo County, and has recently started attending Cal Poly for his college education. During his high school years, he was getting very frequent migraines and sought relief through a natural path. So, he turned to his uncle, Dr. Hart, for help. Due to regular chiropractic care, he no longer experiences migraines at all. 
Justin's success with chiropractic care motivated him to work alongside his family at Hart Family Chiropractic to help others experience the same positive results he has been enjoying for the past few years.
Chiropractic Assistant
Nikayla Hart
Nikayla was born and raised on the beautiful Central Coast. Since infancy, she has received chiropractic care from her uncle, Dr. Hart. Nikayla is a soccer player of 8 years, and with it experiences intense lower back pain after practices and games, but, she always knows her uncle is there to align her spine.
She is currently a sophomore at Atascadero high school, earning outstanding grades. She enjoys art, fitness, as well as baking. She has a charismatic personality, as well as a caring heart. Chiropractic care has overall improved her performance in what she loves.
Chiropractic Assistant
Clayton
Clayton is a born and raised Californian from the Central Coast. His mother, an accountant, and his father, a horse trainer, have always led very active lifestyles. This along with Clayton rodeoing in his younger years led to chiropractic always being a part of their family wellness. Clayton started at Cuesta College at the age of 16 and then moved to New York City when he was 18.
Later he moved to Barcelona, Spain at the age of 19 to study Fashion Design. Over the various places he has lived he has always sought out chiropractic care for his health and well being. As a result of experiencing a multitude of approaches to the practice, he has been able to heighten his knowledge and appreciation for the philosophy of chiropractic.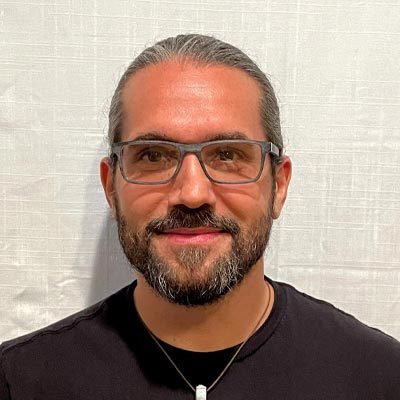 Massage Therapist
Seth Daugherty
First and foremost, Seth is passionate about healing and truly loves his work! His synthesis of medical knowledge and massage experience gained over almost 20 years in the field, help him create a unique and highly effective style.
After serving 4 years in the US Navy as a Corpsman, Seth attended his first massage school in 2002 and began working in Chiropractic offices shortly thereafter. 
Within a few years, he owned his own massage business in Morro bay, which he operated for 10 years before closing the doors to pursue other passions.
After a hiatus, Seth returned to massage and worked at an upscale spa. His true passion, though, is working in a clinical setting like Hart Family Chiroractic, where he can fully implement his practice and knowledge.
Massage Therapist
Tess Mazur
Tess was born and raised in the Bay Area. Growing up, holistic care was as frequent as a doctor visit and alternative communities were the norm. Exposed to such a wide variety of ideas, she realized the value and opportunity in integrated medicine. This passion and deep connection to bodywork has led her to her work today.
Tess's therapeutic style uses a range of methods to facilitate healing in the body.
She is able to assess what the body needs to alleviate tension and pain from stressors and overuse in daily life. With intuitive touch, stretch and breath work, as well as working closely with Dr. Hart's expertise, she caters each massage to the individual's needs.
Deeply passionate about others' wellness, she studied locally at the California Holistic Institute in San Luis Obispo. She is grateful and excited to continue her practice, with Dr. Hart and particularly with members in her community of Atascadero.
OFFICE HOURS
* Mobile Chiropractic By Appointment
---
Monday
8:30am - 10:30am
3:00pm - 6:00pm
---
Tuesday
Closed *
---
Wednesday
8:30am - 10:30am
3:00pm - 6:00pm
---
Thursday
4:00pm - 6:00pm
---
Friday
8:30am - 10:30am

---
Saturday
Closed