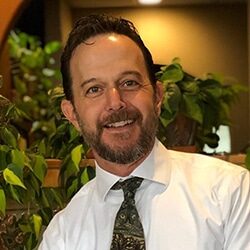 Chiropractor
Dr. Darren Hart D.C.
Dr. Darren R. Hart was born and raised in Atascadero and received his education at Atascadero High School, Cal Poly and Palmer College of Chiropractic.
He was inspired to become a chiropractor after a lifesaving chiropractic adjustment as a young child. He has been practicing in Atascadero for over 25 years. Through his gentle healing touch. Dr. Hart enjoys giving back to others what chiropractic gave to him.
He founded Hart Family Chiropractic in 1994 with the goal of promoting total mind-body health for central coast residents. Today, Hart Family Chiropractic offers natural, non-invasive chiropractic care for all ages in the Atascadero area.
Associate Doctor / Intern
Mercedes Antonini
Mercedes Antonini was born and raised in the Bay Area. She was introduced to chiropractic at a young age because her parents knew the importance of keeping her body aligned and pain free as an avid horseback rider.
She received her undergraduate education at Fresno State where she studied Animal Science. During this time, she was introduced to animal chiropractic as a way to help alleviate the pain she was observing with her horse.
After experiencing the power of chiropractic care, she was inspired to continue her education and dedicate her life to helping the whole family live their best lives. She attended Life Chiropractic College West and Animal Chiropractic Education Source.
Mercedes is excited to bring her passion for chiropractic and holistic health approach to the central coast and join the team at Hart Family Chiropractic as a post-graduate chiropractic intern.
Office Manager
YESSICA Andrade
Yessica was born and raised in Monterey County. After exploring a career in the dental field, Yessica joined Hart Family Chiropractic in 2017 and realized chiropractic was the perfect adjustment for her. After receiving chiropractic care and educating herself in natural care, she decided to incorporate a holistic upbringing for her children. As a result, her son's life has been transformed by chiropractic adjustments.
Yessica enjoys being part of a team that not only works well together but they also have the same goals of providing the community with the best chiropractic care leading to a natural non-medicated healing.
Chiropractic Assistant
EDID TORRES
Edid was born and raised in the Central Valley; She has recently relocated to the Central Coast after obtaining her Bachelor's Degree in Business Administration Management. Edid is excited about beginning her family and continuing her career here in this beautiful area. She looks forward to using her degree to help expand chiropractic in this community.
Chiropractic Assistant
Justin Hart
Chiropractic Assistant
Jasmin Potts
Massage Therapist
Seth Daugherty
First and foremost, Seth is passionate about healing and truly loves his work! His synthesis of medical knowledge and massage experience gained over almost 20 years in the field, help him create a unique and highly effective style.
After serving 4 years in the US Navy as a Corpsman, Seth attended his first massage school in 2002 and began working in Chiropractic offices shortly thereafter. 
Within a few years, he owned his own massage business in Morro bay, which he operated for 10 years before closing the doors to pursue other passions.
After a hiatus, Seth returned to massage and worked at an upscale spa. His true passion, though, is working in a clinical setting like Hart Family Chiroractic, where he can fully implement his practice and knowledge.
OFFICE HOURS
* Mobile Chiropractic By Appointment
---
Monday
8:30am - 10:30am
3:00am - 6:00pm
---
Tuesday
Closed *
---
Wednesday
8:30am - 10:30am
3:00am - 6:00pm
---
Thursday
Closed *
---
Friday
8:30am - 10:30am
3:00am - 6:00pm
---
Saturday
Closed